Warcraft Millionaire Guide Review
Reviewer: Brian Benson
Rating: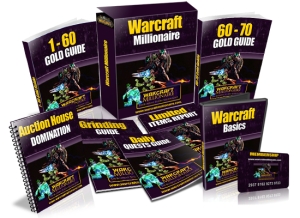 Website Reviewed: Warcraft Millionaire Guide
Dubbed "The Blueprint to One Million Gold", the Warcraft Millionaire guide to making a whole lot of gold in World of Warcraft provides an easy to follow knowledge base full of useful tips and tricks, as well as breakthrough methods that anyone can easily and effortlessly duplicate.
The author pulls information from his own experience that span years, and he puts it all on display in this guide. I would definitely put my trust in the hands of a player who reached the gold cap on multiple characters.
The Warcraft Millionaire gold guide doesn't follow the basic formula that other gold guides follow: use the auction house, do your daily quests, grind for random items, and utilize your professions to make approximately 200 gold per hour. This gold guide starts from the basics, and moves up from there, giving you a comprehensive understanding of making gold easily and quickly.
The guide doesn't just tell you how to make gold, it also lets you understand the fundamental aspects of the in-game economy and how it all works. You will also learn which real world economic theories apply to World of Warcraft. It's a really engaging learning process and experience for both novice and advanced players alike.
Aside from the basics, the strategies in this guide are unique. No rehashed strategies from forum boards and other guides here. This is also not an instant way to be rich in World of Warcraft. The guide requires some patience, practice, and hard work. It does not require you to play the game all day though. More importantly, this guide will not require you to make use of bots, cheats, hacks, and exploits.
You get guided through leveling from 1 to 60. The usual learning curves get debunked and the experimental phase gets eliminated, making you level up at a much faster pace. You get to discover popular items within minutes. You also get to skip spending a lot of time in the auction house by talking to the right people and training the right professions to access top dollar items without spending any more time or money than absolutely necessary.
After level 60, you get more guidance with leveling from 61 to 70. You will get information about where to farm, what to farm on, and what hot items are being sold in the auction house. This will also introduce you to new items, new objectives, and new locations that came into play after the Burning Crusade. You will learn which items are essential, eliminating the need for you to grind for items you would not be using.
In addition to this extensive guide to making more gold from levels 1 to 70, you will also get Warcraft Basics, a guide for beginners that features information about essential aspects of the game. This will get you started the right way.
There's also The Auction House Domination guide which teaches you about the market of World of Warcraft. Buying and selling at the auction house will now be easy for you and your educated market skills.
With a lot more extras like the Daily Quests guide and the Grinding guide, Warcraft Millionaire is a winner.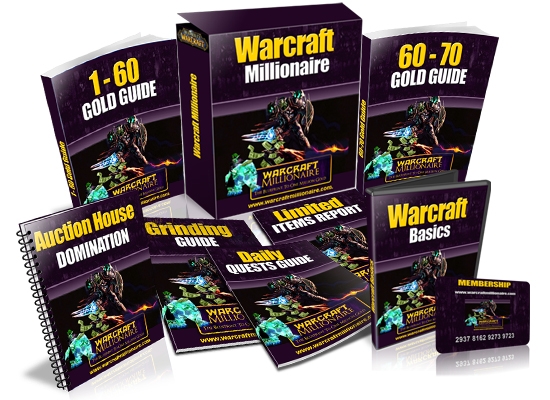 Click Here to Visit Warcraft Millionaire Gold Guide
---
More World of Warcraft Reviews
The following product has received more great reviews than any other wow gold guide from a huge number of WoW Blackbook subscribers, I recommend that you check it out:
Best Overall World of Warcraft Gold and Leveling Guide - Ultimate World of WarCraft Guide
Average User Rating:

I strongly recommend that you check out The Ultimate World of Warcraft Guide. What I love about this 1 - 70 power leveling guide is that it contains comprehensive Horde and Alliance WoW leveling guides AND how to make 200g+/hour gold guide, plus professions guide, beginners guide, class talent / gear guide, macro guide and more. Many experienced people get this just for the power level 60 70 tips, but there is a lot more from 1 to 60 as well. Also it is regularly updated, which is really important as WoW changes all the time.
---
These other guides are also VERY good and worth checking out. I've looked at over 20 World of Warcraft Gold and Power Leveling Guides (in which you'll learn leveling secrets, gold secrets and a lot more) and these are the best of the best:
Next Best Gold Guide - Gold Secrets
Average User Rating:

Gold Secrets is a comprehensive gold guide where an experienced World of Warcraft gamer shows you how to make up to 200 Gold per hour so you'll never have to buy gold again (without using hacks or risking getting banned).

Best Horde Guide - Joana's 1-70 Horde Power Leveling Guide
Average User Rating:

First of all, please note this is a leveling guide for the Horde side only. One of the great things that I love about this guide is that you also get to watch a video of Joana leveling from 1-60 in less than 5 days. So if there is any part of playing that you are unclear about from reading the guide (and it is well written), you can just go and watch Joana playing and see how it is done. Joana also teaches how to level from 60-70 in the updated version of her guide.


Best Alliance Guide

Best Alliance Leveling Guide - Team Demise Alliance WoW Power Leveling Guide
Average User Rating:

This top-notch Alliance leveling guide was written by the former world record holder for leveling. What is amazing about this guide is that it is an in-game guide. You install it as a plug in (completely legal) and you can reference to the guide while you are playing the game, without ever leaving it!

Best Professions Guide: Penn's world
Average User Rating:

This comprehensive professions guide shows you how to level your professions faster and easier than you possibly could on your own. You'll find out what recipes to level on, the best places to farm for the materials you need for the recipes, and more. All professions are covered from 1 to 375, including Alchemy, Blacksmithing, Enchanting, Engineering, Herbalism, Jewelcrafting, Leatherworking, Mining, Skinning, Tailoring, Cooking, First Aid and Fishing.